AMISH HAND MADE HARNESS AT FACTORY DIRECT PRICES
DRAFT SIZE BIOTHANE COMPLETE INCLUDING BRIDLE AND LINES!!!!!
BEFORE YOU BUY COMPARE OUR PRICES. WE GUARANTEE THE FINEST QUALITY OF HARNESS AND WE INCLUDE THE BRIDLE, LINES, AND COMPLETE HARNESS IN ONE PRICE. WE OFFER BIOTHANE AND NYLON HARNESS AT THE LOWEST PRICE ANYWHERE. BIOTHANE IS STRONGER THAN LEATHER AND WILL NOT ROT OR MILDEW AND CAN BE CLEANED WITH SOAP AND WATER. WE OFFER ALL TYPES OF HARNESS INCLUDING BUGGY, FARM, SHOW AND MORE. VISIT US TODAY.
This is a sample of one of our show harnesses. Notice the exact details of the stainless steel buttons and decorations. We offer your choice of harness decorations at affordable direct wholesale prices.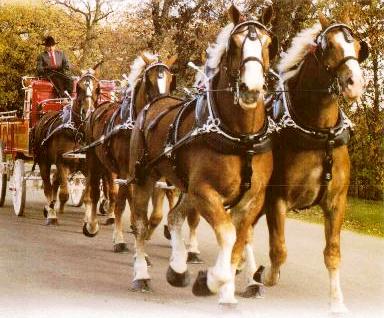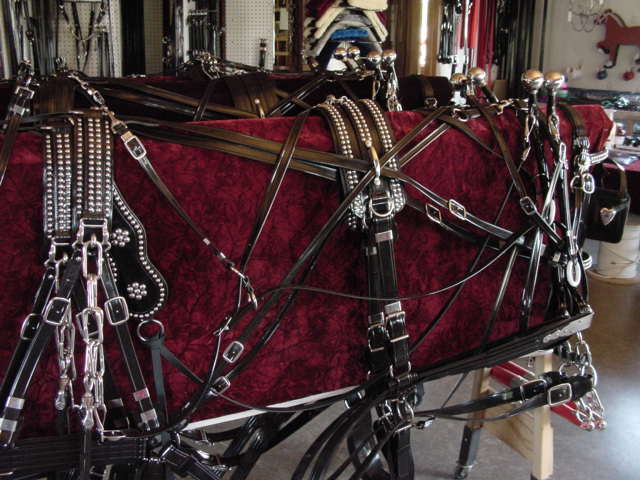 These tools are nearly 100 years old and are still used by the great grandsons. Our Amish Family has been in business over 85 years making harness. Take a look at the Amish hand working with a bone tool to engrave the leather strap.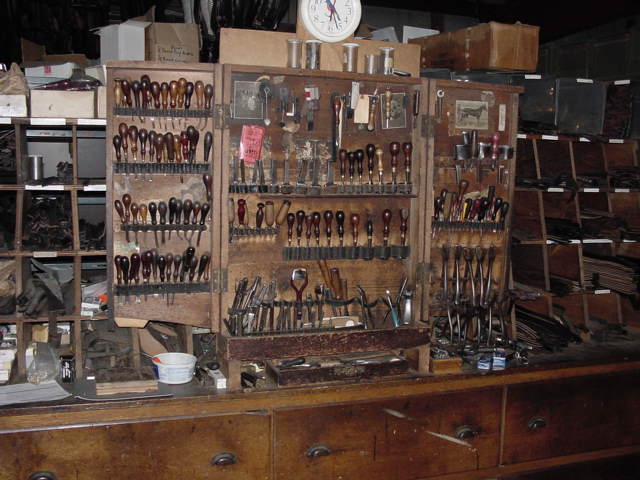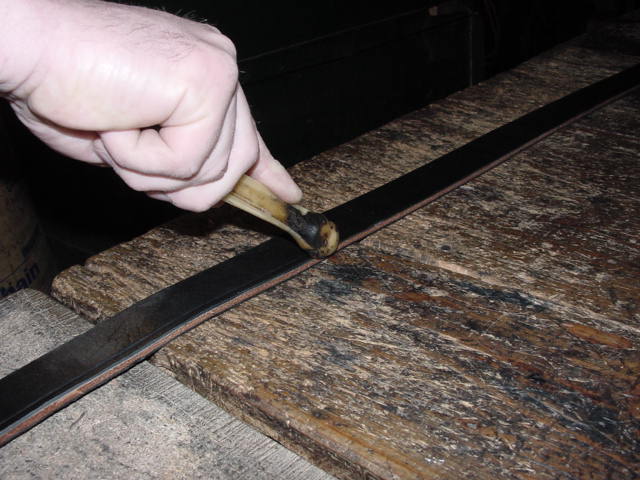 The measurements below are average adjustable settings for standard harnesses. All of our
harnesses will be custom made and will allow for strap adjustment to fit your horse.




MINIATURE SIZE


A: 30" from corner of mouth to corner of mouth
B: 13" Brow band
C: 10" Nose band
D: 50" Girth (right around body)
E: 28" from back band to dock
F: 32" Over loin
G: 26" from flank to flank

PONY SIZE


A: 35" from corner of mouth to corner of mouth
B: 14" Brow band
C: 12" Nose band
D: 60" Girth (right around body)
E: 32" from back band to dock
F: 38" Over loin
G: 34" from flank to flank

HORSE SIZE


A: 42" from corner of mouth to corner of mouth
B: 17" Brow band
C: 15" Nose band
D: 80" Girth (right around body)
E: 38" from back band to dock
F: 55" Over loin
G: 43" from flank to flank




HALFLINGER SIZE


A: 44" from corner of mouth to corner of mouth
B: 18" Brow band
C: 16" Nose band
D: 80" Girth (right around body)
E: 39" from back band to dock
F: 56" Over loin
G: 43" from flank to flank

DRAFT SIZE


A: 50" from corner of mouth to corner of mouth
B: 20" Brow band
C: 19" Nose band
D: 94" Girth (right around body)
E: 34" from back band to dock
F: 62" Over loin

PULLING HARNESS


A: 50" from corner of mouth to corner of mouth
B: 20" Brow band
C: 19" Nose band
D: 98"
E: 35"
F: 74" Over loin
G: 55" from flank to flank
AMISH HORSE COLLAR and HARNESS
FACTORY DIRECT STORE

PLEASE CONTACT US DIRECTLY FOR FACTORY SPECIAL DIRECT PRICING AT:
EMAIL: amishharness@aim.com OR:
PHONE: 330-737-7960


Back To Home Page