HORSE MEASUREMENT GUIDE (DETERMINE YOUR HORSE SIZE )
We are able to provide the complete Amish custom made harness assembly including bridles, hames, collars, harness, lines, either individual or set. All harnesses are handmade and have adjustments that can be changed to fit the horse as they develop. Measure your horse since every harness is custom made. In spite of all the care and custom work, our factory direct prices are excellent. Once we have the measurement we can give you an exact quote. However we can quote estimates based upon size of horse such as draft, quarter, etc. We guarantee low prices and high quality. All of the harnesses will be handmade by Amish craftsmen with superior quality and workmanship. All types of harnesses are available from work to the parade stainless steel show harnesses including the latest in Biothane. Biothane can be in a gloss or leather look. It will not rot, can be washed with soap and water, and is stronger than leather. We are also a dealer in biothane and our harness is made with the highest quality of biothane. Many people do not realize that there are many quality and strengths of biothane. We only use the highest grade.
DON'T FORGET....CUSTOM MADE HARNESS AT DISCOUNT PRICES!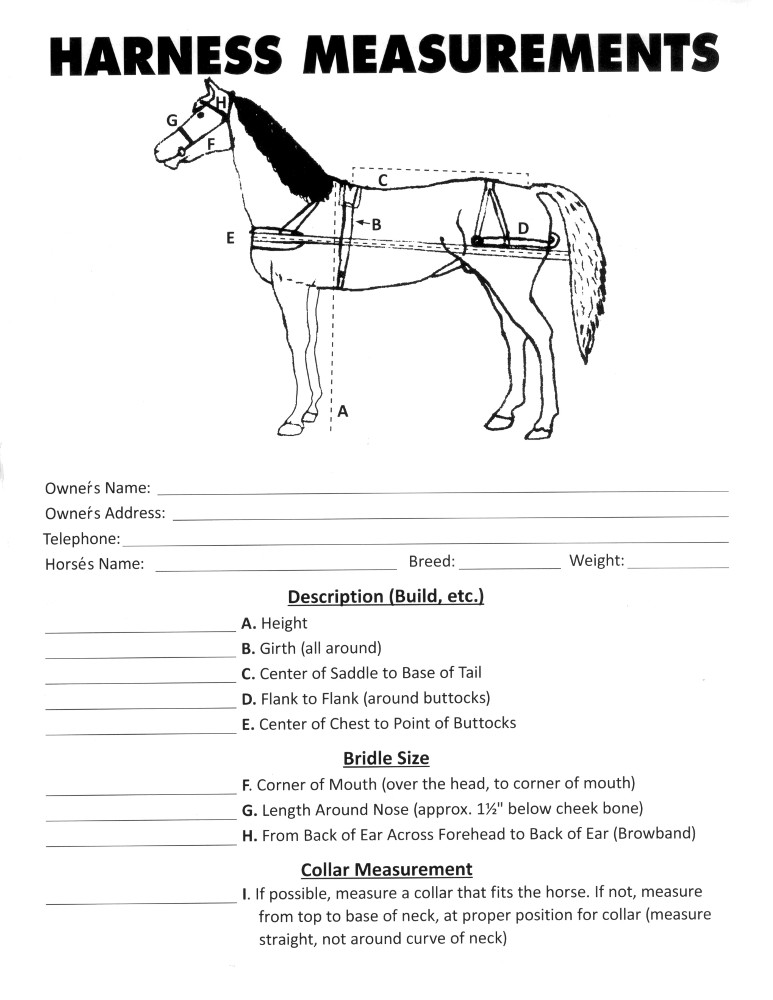 THE TABLE BELOW HELPS YOU TO DETERMINE YOUR HORSE SIZE....SIMPLY USE THE ABOVE MEASUREMENTS AND SEE WHERE THEY BEST FIT...
The measurements below are average adjustable settings for standard harnesses. All of our
harnesses will be custom made and will allow for strap adjustment to fit your horse.




MINIATURE SIZE


A: 30" from corner of mouth to corner of mouth
B: 13" Brow band
C: 10" Nose band
D: 50" Girth (right around body)
E: 28" from back band to dock
F: 32" Over loin
G: 26" from flank to flank

PONY SIZE


A: 35" from corner of mouth to corner of mouth
B: 14" Brow band
C: 12" Nose band
D: 60" Girth (right around body)
E: 32" from back band to dock
F: 38" Over loin
G: 34" from flank to flank

HORSE SIZE


A: 42" from corner of mouth to corner of mouth
B: 17" Brow band
C: 15" Nose band
D: 80" Girth (right around body)
E: 38" from back band to dock
F: 55" Over loin
G: 43" from flank to flank




HALFLINGER SIZE


A: 44" from corner of mouth to corner of mouth
B: 18" Brow band
C: 16" Nose band
D: 80" Girth (right around body)
E: 39" from back band to dock
F: 56" Over loin
G: 43" from flank to flank

DRAFT SIZE


A: 50" from corner of mouth to corner of mouth
B: 20" Brow band
C: 19" Nose band
D: 94" Girth (right around body)
E: 34" from back band to dock
F: 62" Over loin

PULLING HARNESS


A: 50" from corner of mouth to corner of mouth
B: 20" Brow band
C: 19" Nose band
D: 98"
E: 35"
F: 74" Over loin
G: 55" from flank to flank
GO TO HARNESS PARTS GUIDE
GO TO HARNESS ASSEMBLY TIPS
AMISH HORSE COLLAR and HARNESS
FACTORY DIRECT STORE

PLEASE CONTACT US DIRECTLY FOR FACTORY SPECIAL DIRECT PRICING AT:
EMAIL: amishharness@aim.com OR:
PHONE: 330-737-7960


Back To Home Page